Capturing energy: Maria Torp's paintings of presence
By Maibritt Borgen
Maria Torp's art––like herself––strikes you like a lightning bolt. Conversations with her move effortlessly from macro politics, human rights and political and social structures to moments of intensely dwelling together on a miniscule blue detail in a flower painting. She embodies perpetual motion, and she has an always-expanding curiosity for more. For a long time, it intrigued me how this energy could reconcile with her immaculate, labour-intensive, painstakingly detailed and rich paintings. They possess a slow exploration of images that captures the spectator. That they could capture her long enough to create them seems almost
against reason.
Investigating cliché
Torp often works in series, revisiting an image or a theme over and over again, with each painting adding another facet to the investigation. One series of fifteen paintings, one of which is Torp's The Diner (2017) shown on the cover of this publication, investigates commonly depicted themes in the history of Western art and their relation to female subjects. Meals, for example, occur from the religious scenes of The Last Supper to the harsh poverty of Gustave Courbet's The Potato Eaters. If women have a seat at the table -literally speaking- at these meals, few of them seem to be eating (cue Edward Hopper's melancholic women in diners.)
In The Diner, Torp presents a contemporary meal scene with a distinctly different sensibility. In the centre of the image, a woman's tattooed arm moves a forkful of tortellini and Parma ham from a bowl to her mouth. The framing cuts the depiction off at the woman's neck and the slice of Parma ham cascading down from the fork––its meaty surface almost vulgar–– doubles as a kind of oversized tongue, ready to gobble up the pasta. If the dish is bland––plain pasta with cherry tomatoes and basil leaves––she is anything but. Bling adorns her arms with symbols of riches and glamour on the left (perfume bottles, diamonds and jewellery) and a lexicon of tattoo clichés on the right (anchors, a butterfly and a clover). The flat-bottomed, cheap-looking glass most likely contains red wine, and the watch on her wrist shows the time as a quarter to 11, which is either a bit on the late side for dinner or early for lunch. Either of the two interpretations would create a sense of disdain to regularity. Patterns resonate across the painting: the checked pattern of the woman's top reverberates in the rhombus pattern of the laminate tabletop, whose shapes mimic the high-rise buildings we glimpse outside through the window. The image tilts in the mode of a snapshot photograph, and it captures energy and motion in a way that seems distinctly counterintuitive to the labour-intensive technique of the painting. The intensity continues to rise in every inch of the painting, as pattern, topic, and energy resonates across and beyond these surfaces, to the rest of the series, the history of painting and the role of meals in social interaction.
Seeing (darkness)
A recent series of paintings has the suffix (darkness) and gives emotional and perceptual quality to stillness, rest and darkness. In Magic (darkness) (2021), a woman sleeps. Her head rests in her hands, and her body is bent as if she is leaning across a table and has succumbed to sleep in the middle of a task. A cone of light––possibly emanating from a recently opened door––falls on her face and hands and makes them glow against the dark background, providing a visceral effect. This painting charges you with the task of slow examination. Gradually, your perception of the motif shifts as your eyes adjust to the dark surface.
Faced with the canvas, my mind flips through the points in our visual history when images have gradually emerged from darkness: cave drawings lit by fire, the sun shining through a stained-glass window in a gothic cathedral, a photograph caught on film by the shutter, a magic lantern and a movie theatre. Like these, Torp's paintings confirm the basic truth that darkness is a precondition for light and images to exist. In an age when darkness is becoming a scarcity, gobbled up by glowing screens, there is acuteness in this realization. Torp has suggested that darkness eats part of this painting. Perhaps the magic in this painting is eating
darkness back for us.
What's more, the relationship between darkness and light depends not only on elements internal to the painting but also those external to it; the work dramatically changes with the lighting conditions in any space where it hangs. I want to see it hang where changes in natural light will occur most dramatically, such as the industrial space of the Dia Beacon Museum in upstate New York, the radical filtration of natural light in the Menil Museum in Houston, or perhaps lit by votive candles in a Venetian church. Or, most preferably, I'd like to see it in my own home, where I can explore darkness alongside the painting again and again—and perhaps figure out how this painting succeeds in giving darkness a physical form.
If this painting is mostly about, well, painting, there is a new dimension added by our contemporary moment: a nagging uncanniness. Why is this woman sleeping across a table in a dark room? Who else has access to this room? Who is opening the door towards the source of light? Issues of control and power arise. Are we, as beholders, put in the position of perpetrator or lover? Friend or foe? Our age of #MeToo awareness brings out questions of power in a drama hidden in the darkness. Torp's earlier paintings have often had a distinct theatrical quality. The drama here is more subdued but no less dramatic: sleep and wakefulness, power and submission, light and dark.
Shaping a Pattern
Torp's series Shaping a Pattern (2017–present) is a potent and poetic investigation of how painting can make us aware of urgent issues, equally shaped by both her personal drive and her artistic skill. This series––which requires more explanation than others––comprises five (so far) large-scale portraits of individuals working to advance equal rights for women and girls worldwide: Afghan activist and rapper Sonita Alizadeh, Tanzanian anti-female genital mutilation (FGM) advocate Rhobi Samwelly, Ukrainian feminist activist and FEMEN leader Inna Shevchenko, to name several. Each canvas is the result of a research-intensive process that is mapped out on the wall of her studio––the steps of which seem more closely aligned with journalism or documentary filmmaking than painting. Her process starts with a basic question: What are the issues that prevent women and girls worldwide from having rights equal to those of men? Torp identifies issues such as child marriage, lack of birth control, FGM, abortion of female foetuses, honour killings and legal rights, and she works her way through researching each issue with relentless energy and enthusiasm, working from her personal contacts to contacting experts in her efforts to locate individuals working worldwide for social change. Like matching up the rows of color on a Rubik's Cube, the individuals she chooses to paint must comprise different functions (such as doctors, lawyers and teachers) and differ in
geographical location, age, and gender.
The process of locating and approaching the exact person she wants to paint (who most often agrees) can take months or years. Torp travels to meet her subjects where they work and spends time with them; she researches their background, history and context, and she takes many photographs and draws sketches. All these elements become the foundation for the painting she creates over many months back in her studio.
In Shaping a Pattern, portraiture functions as a process of gradually getting to know someone "other" to yourself through painting, a process that functions similarly to journalistic research. Each interpretation of a subject takes both issue and personal history as a starting point. For example, Rhobi Samwelly, who manages a safe house in Tanzania for girls fleeing FGM, is depicted sitting on a green plastic chair as if she is a bulwark against this cultural practice (and, unfortunately, many of the girls' own families). The background is smudged paint, but you can also make out traces of dirt and grass. The canvas is covered by traces of footsteps, as each girl residing in the safe house danced across it with paint on the soles of their feet, dragging with them the dirt and grass of their surroundings. Samwelly and the girls' lives together and this shared history becomes the literal material foundation on which her portrait rests. To add a second layer, Torp's chosen isubjects are often highly conscious of the selfimage they project to the world. By process, Torp's paintings become personal meditations on a person, an issue and on the social structures of our contemporary media. Here, the political aspect is a prompt to understand something—not just shouting an opinion.
Whether excavating the foundations of painting in darkness or addressing social justice, each of Torp's paintings is the tip of an iceberg. They are arrestations of energy, of flow, of an enormous interest in experiencing our world and all its complexities. Torp's dedication to detail and technique provides encounters with others––and ourselves––in a way we can experience over and over again.
The potential of painting
By Karen Grøn, Museum Director, Trapholt, Denmark
We see images everywhere. We see the world in images, and we are inundated by a constant flow of visual impressions. Many people try to get away from our hectic, imagesaturated world into art museums, dreaming of finding artworks that offer experiences of intimacy and authenticity. We scout around and look for something that will 'move us'. What can painting do that other images that surround us do not offer?
A painting is created by a person with a purpose. The purpose may be a matter of craftsmanship – a wish to transform paint on canvas into visual expression. Some painters may have a story they want to convey or a time on which they want to comment. Paintings differ. A simple painting may have a simple purpose – for example to be in nice colours and without surprises each new time you see it. A good work of art has multiple purposes, for example combining craftsmanship, colour, line, brushwork, narrative, references and the times in a masterly unity. Works like this may be immediately accessible, but they may also be complicated to take in. The central thing is that they involve more than we see directly, and offer us more each time we make the effort to receive it. The work has an agenda. The agenda of the work is what the painting wants of us as viewers. The work is not something we must penetrate and decode. It comes to us and unfolds for us if we give ourselves time and the painting our attention.
Maria Torp's works contain this kind of multiple layering. At first glance you can directly read off the fact that this is a figurative painting. We often see a person or figure in an immediately recognizable situation. But when we look more closely, there will be surprises. With craftsmanlike precision Maria Torp combines her figurations with surrealistic elements, a visual presence and intense energy. The subjects seem immediately recognizable and picture-perfect, but as we let the work open up and affect our senses, we can feel as viewers the satisfaction of appreciating the craftsmanship, the dance of line and colours, the intensity, the narrative potential of the motifs and the sense of current relevance that the works reflect.
Figurative painting has aroused new interest and status in recent years, and Maria Torp is one of the painters who are helping to renew and develop the field.
Immaculate, engaged, vibrant images of the times
By Julie Thaning Mikines
The visual artist Maria Torp paints intense, compelling portraits and impressions of space. With a variety of drawing and painting techniques she unveils vital, hyperrealistic images of human beings in various relations and situations. There is a distinctive depth and sensitivity in Torp's precise portraits, and her paintings remain vibrant and alive in expression – indeed, they almost quiver with life. Torp works with sculpture, painting and on paper.
Maria Torp's visual idiom is flawlessly precise and reproduces complex surface structures such as hair, skin, clothing and textiles in a hyperrealistic way. Similar in style to photorealism, the surfaces in Torp's works are smooth and glossy as the pages of a fashion magazine; but Torp's works extend beyond the photorealistic; her working process with the paintings involves not just the reproduction of a photograph, but a personal or intimate story – Torp's approach rather has roots in the nineteenth-century art movement Realism, which is characterized by the consistent observance of the requirement to deal with the contemporary scene, often combined with a socially critical focus on the human condition. Unlike Naturalism, which means a striving towards the objective rendering of visual impressions, the Realist representation always has a certain element of attitude-influenced interpretation – a striving to emphasize those very features that are considered particularly indicative of the true underlying reality.
Maria Torp herself singles out this quality in her work: "What I love most is when the final layer of paint is applied and the subject suddenly acquires a weight and crispness where skin becomes transparent and the subject comes into perfect focus. What I love about the successful Realist painting is that the direct decoding seems so simple, yet the subject still remains living and vibrant."
In the same way Torp's works stand out in being content-rich and profoundly personal depictions of the times. In the work The Diner, 2013, we see a detail of a woman who is eating fresh pasta and drinking red wine from a water glass. The woman sits at a patterned table top, her arms are covered in colourful tattoos; she has red-varnished nails and wears a small red and white check top. The woman's face is outside the picture, but the work still functions as a profoundly intimate portrait. There is a closeness in the painting that has a surprising effect and arouses the viewer's curiosity: who is this woman and what is her story? The characteristic patterned tabletop and the wooden panelling behind the woman create a feeling of familiarity, and as a young Copenhagener you know that you are at Café Dyrehaven in Vesterbro. This immediate decoding helps the story of the woman on its way and activates the viewer.
Maria Torp's images are created in an extended process. The artist works with drawn sketches that subsequently become photos, which in turn become the designs for her paintings. The artist describes the reason for this process as follows: "To begin with, I was interested in seeing whether it was possible to translate a highly personal expression (the drawing) into a slice of reality (the photo) – and then to paint it. Whether it was possible to preserve the original power and essence of the drawing. But I was also aiming for a process where I was better able than before to enter into a dialogue with the work. And because many random factors arose and lots of circumstances are in play in a photo shoot – personal tics and others' ideas etc. – it becomes much more challenging for me to work with. I use the drawing as a guiding model, but if chance suddenly dictates something different, it's important to be open to that. The three stages can perhaps be seen as the maturing of a motif…" The people that Torp portrays are found both within and outside her personal circle.
Transition, 2015, is another overwhelming work from Torp. Here the artist has moved away from the classic canvas and instead has painted directly on unfolded cardboard boxes. The work measures 3 x 8 m, and it is both the size and the subject that make it so overwhelming. With oils, acrylic and spray the artist has painted a grim situation out of the raw surface of the cardboard: a young boy lies stretched out asleep in a turquoise sleeping bag – the boy is bare-chested and lies on his side so we can see half of his face and his blond hair. At the boy's feet a dog sits keeping watch; garbage, tin cans and clothes lie scattered around the boy, creating a distinct feeling that we are on the street. The fact that many homeless people in fact use unfolded cardboard boxes as a sleeping underlay creates a clear association with the reality of society. Torp's precise, vital and flawless visual imagery contrasts sharply with the raw look of the cardboard, just as the age and naked skin of the boy make his situation even more vulnerable and telling. As is often the case with Maria Torp's works, the subject provokes a myriad of questions in the viewer: who is this young boy, how old is he and where are his parents? Why does he have to sleep on the street and who is responsible for him? The thoughts come swarming in and the viewer cannot help engaging with the work and the situation.
This engagement that the artist's works prompt in the viewer is quite exceptional and underscores Maria Torp's rare artistic talent for telling captivating stories through painting. The depth and sensitivity in Torp's works are surprising and challenging, and her intense portraits paint a stark, enthralling picture of our time.
Maria Torp was born in 1975, studied at the Royal Danish Academy of Fine Arts in 2000-2007 and before that at the London College of Printing. She lives and works in Copenhagen. Torp works with sculpture, painting and on paper and she has participated in several group exhibitions at galleries, museums, art halls and art fairs both nationally and internationally. In addition she has executed decoration commissions for among other organizations FTF, Ferring, The Velux Foundation and TrygVesta.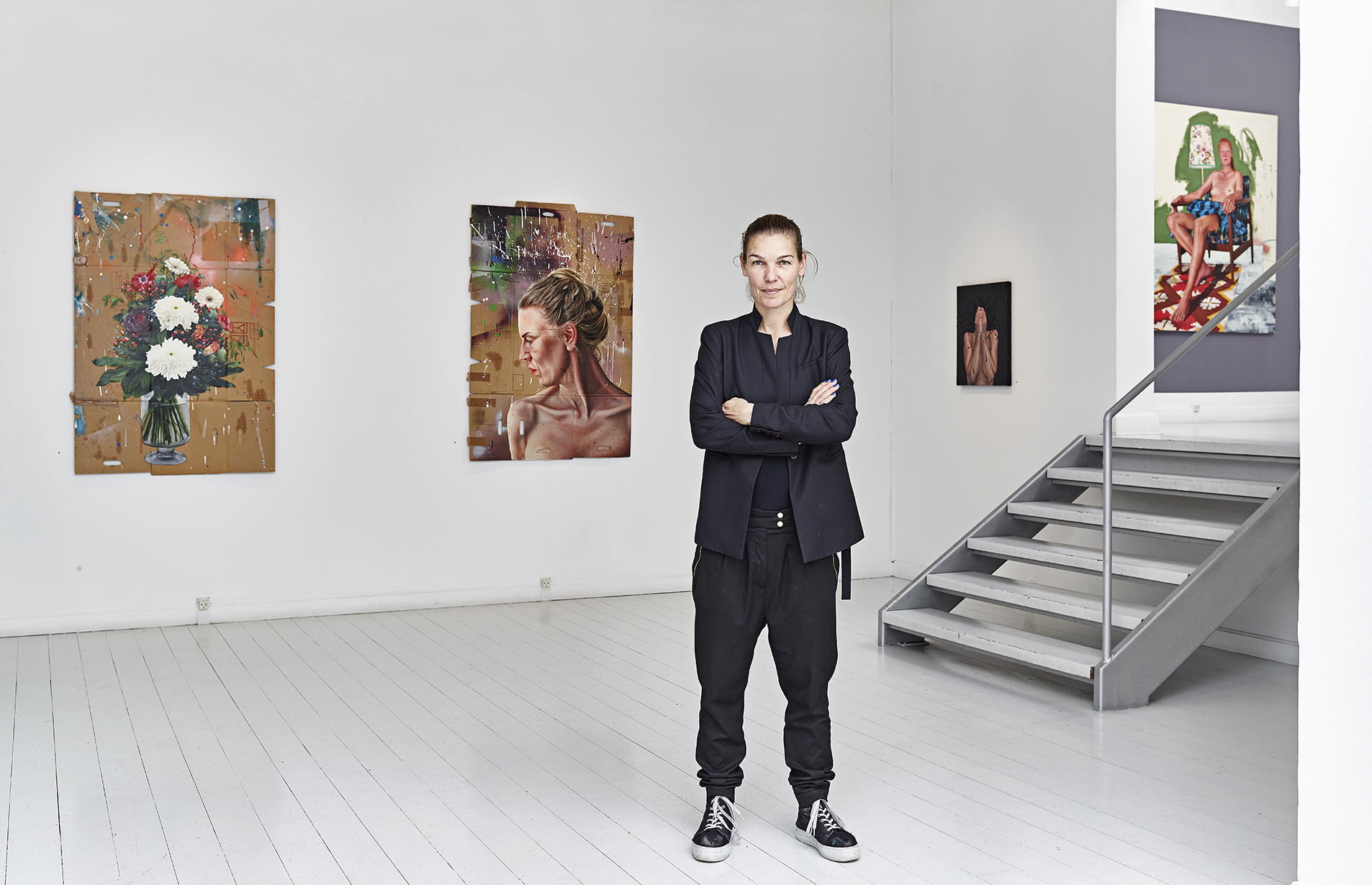 CV MARIA TORP
Born 1975 Copenhagen, Denmark Lives and works in Copenhagen, Denmark
EDUCATION
| | |
| --- | --- |
| 2000-2007 | MFA, The Royal Danish Academy of Fine Arts, Copenhagen, DK |
| 1998-1999 | London College of Printing, UK |
COMING EXHIBITIONS
| | |
| --- | --- |
| 2024 | Shaping A Pattern, Solo exhibition, Trapholt Museum, DK |
| 2022 | Enter Art Fair, Copenhagen, DK |
SOLO EXHIBITIONS
| | |
| --- | --- |
| 2021 | "Notater" / "Notes", Gallery Benoni, CPH, DK |
| 2019 | Galerie Depardieu, Nice, France |
| 2014 | The Riddle, Gallery Christoffer Egelund, Copenhagen, DK |
| 2013 | VOLTA Art Fair, New York, US |
| 2011 | Characterized, Gallery Christoffer Egelund, Copenhagen, DK |
| 2008 | Outside In, Gallery Christoffer Egelund, Copenhagen, DK |
SELECTED GROUP EXHIBITIONS
| | |
| --- | --- |
| 2021 | TRAPHOLT COLLECT, Trapholt Museum, DK |
| 2020 | Midt i en Covid Tid, Senior Notater, Trapholt Museum, DK |
| | Hopes & Dreams, Barnard Gallery, Cape Town, South Africa |
| | T!NG, Janus, Vestjyllands Kunstmuseum, DK |
| | Cape Town ArtFair, South Africa |
| 2019 | Kunst Rai Amsterdam, Amsterdam, NL |
| | London Art Fair, London, UK |
| 2018 | Baldersbrønde Revisited, Palæfløjen, Roskilde, DK |
| 2017 | Trans-Figuration Daugavpils Mark Rothko Art Centre, LV |
| | Vesthimmerlands kunst Museum, DK |
| 2016 | 50x50x50, Kastrupgårdsamlingen, DK |
| 2015 | Realisme-nu, Vrå Udstillingsbygning, DK |
| 2014 | 10.000 timer-hvad er talent?, Trapholt museum, DK |
| 2012 | Ude af fokus, Holstebro Kunstmuseum (DK) |
| 2010 | Works at Work, Charlottenborg Kunsthal, DK |
| 2009 | Group exhibition, Galleri Christoffer Egelund, Copenhagen, DK |
| 2007 | Exit 07, Kunstforeningen Gl. Strand, Copenhagen, DK |
| 2006 | Art Copenhagen, DK |
| 2005 | Gæstfrihed (with. Selvsving), Den Frie Udstillingsbygning, Copenhagen, DK |
| | Selvsving, Overgaden – Institute of Contemporary Art, Copenhagen, DK |
| | Selvsving, Køge Skitsesamling, Køge, DK |
COLLECTIONS
| | |
| --- | --- |
| Trapholt Museum | Mark Rothko Art Centre, Latvia |
| Vestjyllands Kunstmuseum | John A. Bennette Collection, US |
| VELUX Foundation | Tryg |
| Statens Kunstfond | Nykredit |
download pdf: english